The celebrations, concerts, choir, music, plays, services and artistic therapies all enrich the lives of everyone who lives and works at Hōhepa.
In addition to Matariki, Christmas, Easter, Waitangi and ANZAC celebrations, we also have our own Hōhepa festivals and events. One example is our annual Silent Meal where the whole community gathers to share a hushed meal of fish, bread and grapes to remember the Last Supper. While not compulsory, many staff and people we support at Hōhepa attend, and join together as a community.
All four seasons are celebrated, with our autumn festival at the farm a favourite. We also have an annual Families Weekend, with live music and dancing. Our Hōhepa community, including family members and friends, are big supporters of these get togethers.
Birthdays are eagerly anticipated, especially milestones! Celebrating these helps strengthen the sense that we each have a biography which we create.
Hōhepa Families' Weekend is coming up, 8-10th September.
We invite you to spend time with your loved ones at Hōhepa, including our fabulous Dine and Dance on Saturday 9th September.
Come along to one, some or all of these events:
Friday 8th September – Drinks and nibbles
5pm – 7 pm
Hōhepa Hall, Barrington Street
Saturday 9th September – Morning tea
10.45am
Hōhepa Hall, Barrington Street
Saturday 9th September – Dine and Dance
6pm – late
Buffet dinner and cash bar
Hornby Workingmen's Club, Carmen Road
Sundav 10th September – BBQ lunch
Halswell Farm, Trices Road
Follow the link for details and tickets:
https://events.humanitix.com/h-hepa-families-weekend-dine-and-dance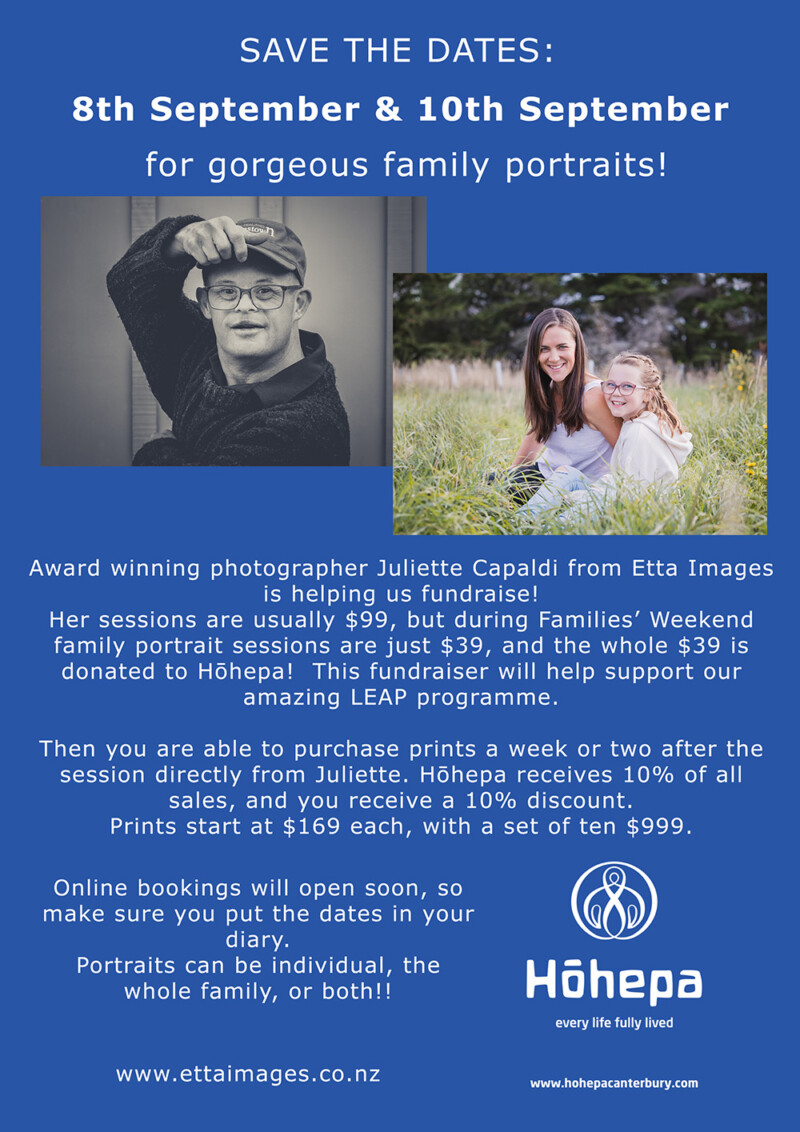 Families' Portrait Fundraiser
Book a beautiful family portrait and support Hōhepa at the same time.
Award winning photographer Juliette Capaldi from Etta Images is helping us fundraise!
Her sessions are usually $99, but during Families' Weekend family portrait sessions are just $39, and the whole $39 is donated to Hohepa! This fundraiser will help support our amazing LEAP programme.
Then you are able to purchase prints a week or two after the session directly from Juliette. Hohepa receives 10% of all sales, and you receive a 10% discount.
Prints start at $169 each, with a set of ten $999. Portraits can be individual, the whole family, or both!!
Bookings available now for Families' Weekend, details here: www.ettaimages.co.nz/hohepa